Sawmills Tape from producer
In stock
| Wholesale and retail
Wholesale:
61000

UAH

/pcs

- from 3 pcs
Country of manufacture:
Ukraine
Band sawmill is designed for sawing round wood on the edging and not edging board or beam.

The main advantage of the horizontal bandmill sawmill RHYTHM - 1:
Thin propyl;

Possibility of individual cutting logs;
Broad band saws;
Hydraulic tensioning device blade.
All this guarantees the perfect geometry of the timber and a work with high feed rates, which certainly improves performance.
Technical data: The rhythm - 1
The maximum diameter of log to be cut, mm

to 800

Upon request, you can increase the base frame

The minimum length of the log, mm

500

Thickness propyl (depending on the blade thickness) mm

1 5 - 2 2

Mass logs kg

not more than 3000

cutting accuracy, mm

± 1, 0 (± 2, 0)

Capacity, m³ per shift of 8 hours.

(возможна непрерывная работа в несколько смен)

10 - 15

Мощность привода пилы, кВт

7, 5 (11)

Мощность привода электроподъема пильного механизма, кВт

увеличивает производительность распила

0, 5

Скорость подачи, м/мин

2—30

Скорость резания, м/сек

25

Напряжение питающей сети, В

380

Подача пильной каретки

механическая

Ленточная пила, мм

4030х35х1, 5

Габаритные размеры, мм:

Длина 7000 из двух частей




Ширина 2000




Высота 2250

Масса, не более кг

1450

Поставка на условиях EXW по Украине

Возможность экспорта на условиях FCA

г. Харьков (склад поставщика)
Комплектация:

- Ленточная пилорама (коретка) со станиной - 1 шт;
- Инструкция по эксплуатации - 1 шт; - Электрокабель - 11 м. п.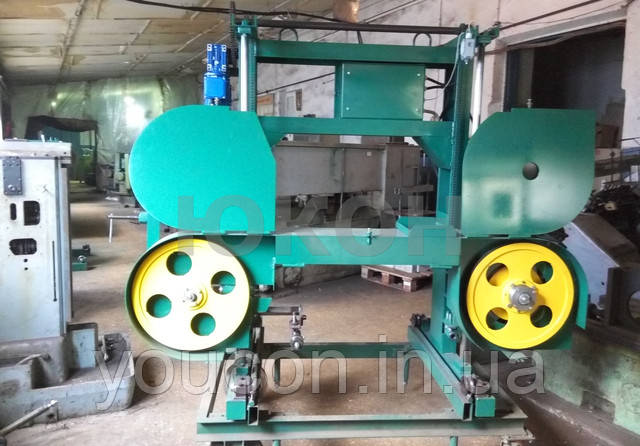 По желанию заказчика существует возможность установки электродвигателя 7, 5 \ 11 кВт, а так же дополнительных механизмов (электронная линейка). Так - же есть возможность в приобретении заточного и разводного станка для пилы.
Ленточная пилорама позволяет вести продольную распиловку бревен диаметром до 800 мм и длиной до 6200 мм. По заказу потребителя пилорама изготавливается под любую длину распиловки. Также можно осуществлять распиловку необрезной доски на брус или обрезную доску. В зависимости от твердости древесины и сортамента пиломатериалов обеспечивается производительность около одного кубометра в час. Подача пильного узла вдоль распиливаемого бревна осуществляется вручную. Опускание и подъем узла для установки толщины отпиливаемой доски осуществляется винтовой передачей с электрическим приводом. Величина толщины доски контролируется визуально по специальной линейке.
Бревно крепится на столе посредством упоров и прижима. Усилие натяжения пилы контролируется по манометру. Устройство должно быть защищено от прямого действия осадков и установлено в закрытом помещении или на открытой площадке под навесом.
Надёжность:
Ленточные пилорамы Ритм отлично зарекомендовали себя и являются одними из самых распространенных пилорам на территории всей Восточной Украины. Их прозводство было начато более 10 лет назад (с модификации РИТМ - 1), с тех пор конструкция постоянно улучшалась. Конструкторская задача была следующей - оптимальная производительность, удобство работы для пилорамщика и простота конструкции, максимально увеличивающая надежность.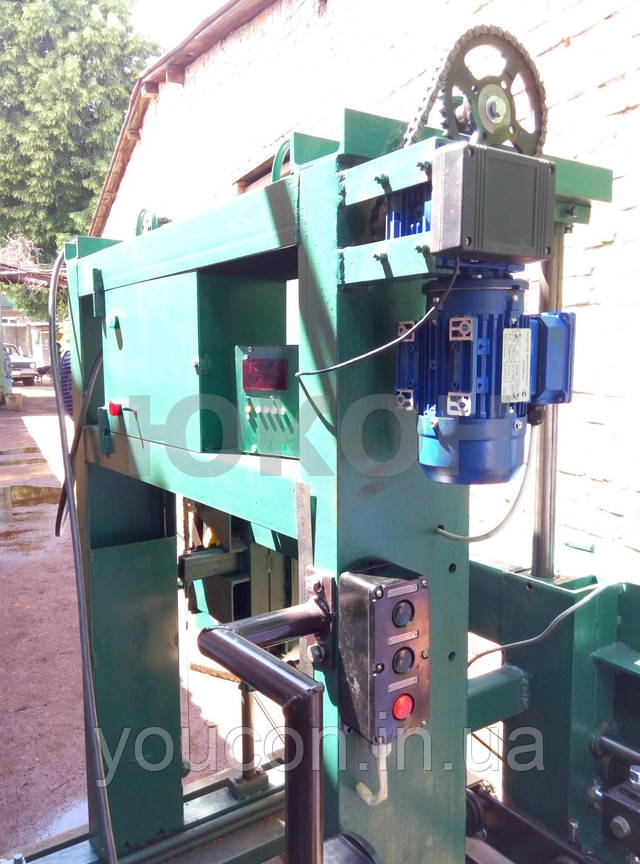 Country of manufacture:
Ukraine
Information is up-to-date: 14.06.2021
Read more
Unbelievable price on Sawmills Tape from producer in Kharkov (Ukraine) company YuKON.
Sawmills Tape from producer in other languages